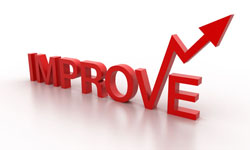 So, you are good at many things, in fact, you're great at most things! But everyone can't be great at everything so today's questions are:
What Do You Need to Improve On?
AND
How Do You Plan to Improve?
It may seem like a very basic question…and frankly, it is! So, why do so many people struggle to answer these questions?
Personally, I think people feel that by mentioning an area in which they need to improve, it makes them vulnerable and shows weakness. However, I completely disagree with this sentiment; In my opinion, it shows strength and courage to acknowledge weaknesses and goals for improvement because doing so allows you to grow as a person, a parent, a spouse, a professional, etc…
So, what do you think?
Do you think it is challenging to point out areas in which you need to improve?
What would you like to improve on?
How are you working towards your improvement goals?
Do you think it is a sign of strength to admit to an area in which you can improve?

I look forward to reading your comments.