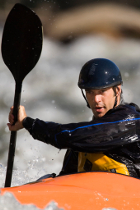 Last month while I was preparing to go to Omnicom University I was reading a Harvard Business Review case Study entitled "The Making of a Corporate Athlete." The article was very interesting and had a discussion around athletes and for them to describe how they felt when they were performing at their best.
I gave it some thought and wanted to see what words I would use to describe how I felt when I was performing at my best. Here are a few that I came up with:
Confident

Passionate

Focused

Excited
Now your turn.
When you are on the top of your game what words do you use to describe how you feel?

Describe the words that you would use when you are in a zone and making things happen.
I look forward to reading your comments.