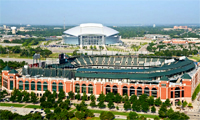 A few years ago I was so excited about the sports scene in Dallas. The Dallas Mavericks won the NBA Championship, The Texas Rangers went to back-to-back World Series and the Dallas Cowboys won the NFC east in 2009. Speed up a few years and here is where we are now:
Dallas Mavericks are way under 500 this year, have very little talent and have anything but a cohesive unit. If they turn things around and make some noise in the playoffs, Rick Carlisle deserves coach of the year for sure. Owner Mark Cuban made a few strategic moves and unfortunately they didn't work out. He wanted to go with a long term plan and so far not much has worked for the team. The American Airlines Center (AAC) was a special place to go as a fan but unfortunately the craziness and cheering has been toned down a little bit.
Dallas Cowboys – Where do I start? Since I have been living here (8 years) this team always appears to be on the verge of the Super Bowl or at least that's what Jerry Jones and the media would like you to believe. The reality is that their talent is really not there. They don't play as a team, their coaching is very suspect and Jerry Jones isn't the best GM in the game. They have an amazing stadium and Jerry Jones, the marketer, is a genius. The problem is Jerry Jones, the GM, isn't. This team has won only 1 (yes 1) playoff game in 16 years. That alone should speak for itself. Their facility is huge and if Jerry and the rest of the leadership team aren't careful, they will have a lot of empty seats.
Texas Rangers – 2010 and 2011 were magical rides – rides that went to the World Series both years and frankly was an amazing place to go. You could feel the energy the second you walked into the stadium. For the first time in at least a decade, the Rangers drew more than 3,000,000 fans – unfortunately those days might be behind us. I have no idea what the Rangers did or were thinking this off season. They have done very little, let a lot of their players and free agents go, lost Michael Young who was their captain and face of the team and might be in store for a very long year in the Texas heat.
Unfortunately, Texas isn't like Boston or Philadelphia where you don't need to be good in order for fans to show up. This is Dallas and even when the teams are good/great, the fans don't always come out.
A few years ago I was on cloud nine, thinking Dallas was the best sports city in the country. A few years later – not even close. It's funny how quickly things can change.
I am not excited about the sports teams in Dallas – frankly I am really concerned.
Dallas fans: Do you agree with what I am saying?
How do you feel about your sports city?
I look forward to reading your comments.