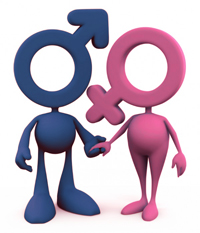 A few weeks ago I got the same email from a few people (thanks J.K. and S.S.) that basically mentioned all of the reasons why men were happier than women. Here are 15 of the reasons why:
The garage is all ours.
Wedding plans take care of themselves.
Chocolate is just another snack.
Car mechanics tell you the truth.
We never have to drive to another gas station restroom because this one is just too icky.
Wrinkles add character.
New shoes don't cut, blister, or mangle our feet.
Phone conversations are over in 30 seconds flat.
A five-day vacation requires only one suitcase.
We can open all of our own jars.
Our underwear is $8.95 for a three-pack.
Three pairs of shoes are more than enough.
We are unable to see wrinkles in our clothes.
We have freedom of choice concerning growing a mustache.
We can do Christmas shopping for 25 relatives on December 24th in 25 minutes.
What do you think:
Ladies, do you agree that men are overall happier than women?
Let the debate begin!
I look forward to hearing your thoughts.