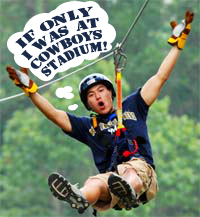 I have said it before. I believe Jerry Jones is a marketing genius. Ok, I will say it again. He is a marketing genius. Read on to see what I believe would be a no brainer to have in Cowboys Stadium.
Jerry Jones and America's team have the perfect place for a one-of-a-kind adventure. Why not have high above the field an adventure that is so cool that every football fan in America and every visitor to the stadium would want to do? I'm talking about a ride that is so thrilling that you will want to do it over and over again.
Here is the idea – a 700 foot zip line installed high above the greatest stadium in the country – a zip line that is hundreds of feet off of the ground and soars across the greatest field in the National Football League.
What if I told you that Jerry Jones was installing a zip line that was 700 feet in length and was guaranteed to be safe? Engineers have thought of everything and given the green light that nothing will go wrong…
I look forward to reading your comments.