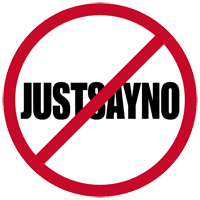 Business is very hard these days. Everyone is looking to move their business forward, increase revenues and improve the bottom line. Exceeding client expectations on every project or service is now the standard. Customer service has to be amazing, memorable and outstanding. Do all of that and you separate your company from the competition.
The word NO should never be used in business. I am not suggesting you say "yes" to every request a client or customer makes, but what I am saying is use other words to replace the word NO.
Words or phrases like:
Here is an alternative way to do this.
Is it possible to finish the project a day earlier and conduct 10% less surveys?
I know you are in a hurry. What about we hand deliver the order to make up for the shipping charge?
To me, so many people use the word NO – they almost lead with it. I know when that happens to me it is an instant turn off.
How do you conduct business without using the word NO?
How do you feel when someone does that to you?
I look forward to reading your comments.