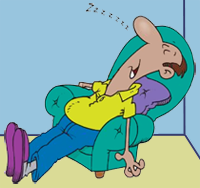 A few weeks ago I got an email from my uncle that I thought was pretty funny and probably accurate. It talked about the back nine which was a reference for getting old. Here are a few things the email contained that I thought were pretty interesting, accurate and I guess my future as I get older and MORE EXPERIENCED:
Your kids are becoming you.
Your grandchildren are perfect!
Going out is good… Coming home is better!
You forget names…. But it's OK because other people forgot they even knew you!
You realize you're never going to be really good at anything…. especially golf!
The things you used to care to do, you no longer care to do, but you really do care that you don't care to do them anymore.
You sleep better on a lounge chair with the TV blaring than in bed. It's called "pre-sleep".
You miss the days when everything worked with just an "ON" and "OFF" switch.
You tend to use more 4 letter words … "what?"…"when?"
Now that you can afford expensive jewelry, although it's not safe to wear it anywhere.
Everybody whispers.
You have 3 sizes of clothes in your closet…. 2 of which you will never wear.
So I ask you…
Is this what is going to happen to me?
Is this what is happening to you?
Which of these little bits of wisdom make you smile and are your favorite?
I look forward to reading your comments.