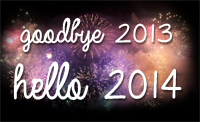 I truly can't believe how quick 2013 came and went. Maybe it is me, but as I get a little older… Oops, I mean more experienced, the years seem to go much quicker.
Here is what I would like you to do today. Close your eyes, take 10 seconds and think of a few words that describe 2013.
I will go first:
Now your turn:
What are the first words that come to mind that describe 2013?
I look forward to reading your comments.