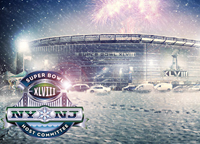 In a few weeks the Super Bowl will be played in East Rutherford, New Jersey – home of the NY Giants and NY Jets. I'm not sure if that is the biggest story – the month and the open air stadium might be more of the story. For the first time the NFL made a decision to play the Super Bowl outside in a cold city! What awaits this year's Super Bowl? Snow? Sleet? 10-degree weather? Yes, New York will be an amazing experience before the game. The parties, experience and flexibility that New York gives the NFL is unmatched, but let's not discuss that. Let's discuss the game and the elements.
Even though we don't know which final teams will make it to the Super Bowl, I will say that the big game will include a team from the west coast that probably isn't accustom to the cold or snow. Yes, they are professionals but it just isn't as much fun playing when it is freezing out and the ground is hard as a rock.
A few weeks ago I had the pleasure of attending football games in Green Bay and Chicago. I was prepared for the elements but it still wasn't as much fun because eating, walking and going to the restroom were a chore! Anything but fun!
Without question this year's Super Bowl will be successful! Having it in the Big Apple makes sense for a lot of reasons but I am NOT A FAN!
I say the Super Bowl should be played in a warm-weather city or in a dome!
I say thumbs up to South Beach, New Orleans, The Rose Bowl and Arizona! And a big "no" to any city that is cold!
What do you think?
Super Bowl… Hot or cold? You tell me…
I look forward to reading your comments.
PS. Having just been to Lambeau Field, it would have been GREAT if the first Super Bowl played in a cold city was somehow played there! I realize they don't have the infrastructure but heck, can't a guy dream?!