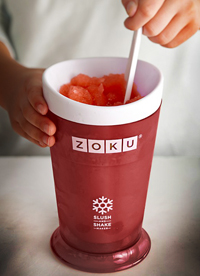 So there I was on a Friday afternoon in the middle of December looking for a few gifts for my kids. As I wandered into Williams Sonoma, I was greeted by a pleasant person who was serving hot chocolate.
After sipping a little I asked her what cool, new and different gifts they had that I could give to my kids. She paused for about a third of a second and handed me an already wrapped package (clearly a bonus for a guy who is a horrible gift wrapper) and said this might do the trick. I asked her what it was and her response was, "It turns anything you pour into it into a slushy/milkshake after a few minutes." I asked if it really worked and she promised it did. Well, after buying a green, purple & red ZOKU ($19.99) for each of my kids I left the store and frankly was really excited to see if they would work. Well I am happy to report they do! The kids love them and use them all the time. FYI – as a bonus it supposedly works with alcohol as well.
So I say to you – go ZOKU and let me know your thoughts:
Would you go out and buy one?
I look forward to reading your comments.