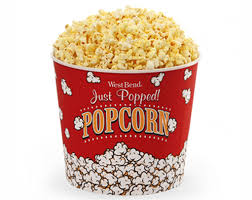 A few weeks ago, I took my kids to a Dallas Stars hockey game and we had a blast. During the game there is always lots of discussion about eating! In fact, sometimes there is even more conversation about food than there is about the live action of the game. After the kids ate tons of food, they needed one more thing: The bottomless popcorn bucket! As one of my kids said, "Dad a hockey game isn't the same without popcorn!" I chuckled a little and then took a trip to the concession stand.
When I returned, there appeared to be a fight in the stands…between my three munchkins. The apparent controversy seemed to stem from who would be holding the popcorn bucket. A few seconds later I came up with a solution – I would hold the bucket. After that announcement (which didn't go over very well), I took the hockey program from that night and ripped out a few pages. I know some of you are thinking, "What does ripping pages out of the program have to do with anything?" Well, inherently nothing but what I did with those pages IS relevant: I made a funnel out of the pages and had my kids hold the funnel and pinch the bottom while I poured popcorn into it so they could each have their own popcorn supply.

Problem Solved!
Has a fight over the popcorn bucket ever happened in your family?
What did you do about this problem?
What do you think about my solution?

I look forward to reading your comments.