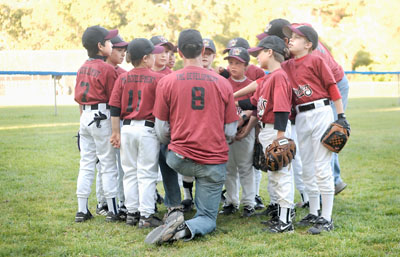 This spring has been a very interesting and unique experience for both of my boys. One son is playing baseball and is 10-1 in his season. My other son is playing football and is 2-9 in his season (including a 72-0 loss against the State Champions). The interesting thing is: If I asked who you thought was having more fun based on that information…many people would guess that my baseball-playing son with the winning record would be having more fun.
Interestingly enough, my baseball playing son says has learned very little, if anything, this season. He doesn't enjoy the practices because the coach doesn't make them fun or teach anything. In fact, my son thinks this coach is his least favorite out of the 14 he has had in past seasons. While my little football player loves his team, the practices and the coach. He says the coach always takes a lot of time to explain everything and always does so with a smile.
Throughout the season, I have been watching from the stands and I have to say: both of my kids are 100% right! The coach with the better record doesn't make it fun. It seems that at the end of the day, all he really wants to do is coach his own son…which is great in golf, tennis or other individual sports but not so great for a team sport. Teaching and motivating people is important at any age…it can (and does) make a huge difference! I have stressed to my son that over the past 30 years, I haven't always had the best bosses but no matter what, I was part of the team and always try to do my best. I try to help him understand that he needs to do the same and I think he understands this because he has been giving his best effort and plans to do so until his season comes to a close.
Has one of your kids played for a coach that wasn't the best coach?
How did you handle the situation?
If you've coached in the past, how have you made it fun for the team?
Did you or the team have any learning experiences from the season?

I look forward to reading your comments.