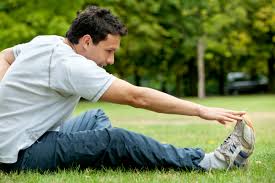 For more than 45 years, I've been playing sports! When I was growing up not a single day passed when I didn't play baseball, football, hockey or some other sport. When school was out and the summer was upon us, I would go to a sports camp. As I recall I always did the same thing: Just showed up and started playing…with very little warm up and no stretching! Now, years later, I am paying the price for that! My body isn't as flexible as it could be, nor is it as flexible as some of my friends.
Life is a little different now…when I workout or play sports, I allow 10 minutes to stretch before and more importantly, I stretch after I workout. If I do this, I feel 100 times better that night and the next day…and if I don't do that, the word "pain" comes into play!
Do you stretch before/after you work out?
Have you always done this? Or just later in life like me?
Do you have your kids stretch before they play sports?

I look forward to reading your comments.