Equity/Marketing

Effectiveness Tracking
MarketLink delivers the drivers of selection, loyalty and competitive advantage and, importantly, quantifies the precise link that exists between these drivers and shifts in market share.
Armed with this predictive insight, MarketLink provides a preview of potential growth opportunities and helps optimize focus based upon assessed impact on market share.
The ultimate measure of brand strength is the ability to outpace competing brands. Utilizing preference modeling from our validated forecasting methodology, MarketLink reframes the linkage of brand performance metrics to market outcomes with a degree of precision and subsequent actionability unavailable with conventional approaches.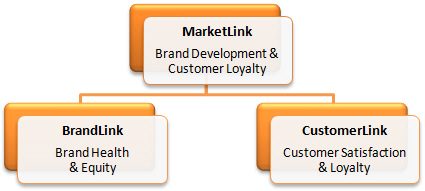 The path to the future comes with a map. Whether your need is fortifying overall brand health, improving customer loyalty, or targeting ideas for further development, MarketLink solutions are designed to provide a framework prioritizing innovation and marketing efforts.
We've provided an overview of our approach, please contact us so we can address your specific objectives.