Usually I don't write any of the blogs during the week; I tend to write them on Sunday. But today is different based on a few things that have happened recently.
One night I went to work out; it was around 8:00 PM. Let me define my workout. It consists of running/walking on the treadmill for about 35 minutes and saying good-bye to about 375 calories. I look forward to working out because besides burning off 100 or so more calories than the one coke I drink during the day, I can catch up on my reading, watch a little TV and frankly enjoy a little quiet time.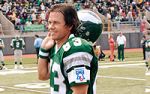 Six minutes into my workout I hear someone over my right shoulder say, "Is Tory Holt picked? What about Chad Johnson?"
At first, I thought he was talking to me, so I tried to bend my body like a pretzel to see if I could see him. No luck at all.
Then he says, "Okay. I will take Marvin Harrison."
This went on for about another 30 minutes until I left. The 26 year old behind me was on the elliptical machine while he was on a call for his fantasy football draft.
In the past month these occurrences have all happened in my presence:
While I was watching the movie

Invincible

, a person who was seated about five feet to my right answered her phone and spoke to someone for 4 minutes
Two people in a NY elevator were on the phone at the same time—for the entire trip of 32 floors down to the lobby
I have been in the restroom while someone was on the phone in a stall
I have been having dinner at a very nice restaurant while someone was on the phone speaking very, very loudly
And my favorite from the last month:
Someone was actually on the Hertz bus screaming at his administrative assistant for messing up his travel plans
I understand multi-tasking. In fact, part of our hiring criteria at M/A/R/C is to be a solid muli-tasker. I would consider myself a good multi-tasker.

I just believe there is a time and place for all of this "need to be available 24/7" and believe this is beyond out of control. Drew Barrymore in the movie Fever Pitch references a boyfriend she had who didn't like how much she was on the phone and took her cell phone and tossed it away.
Everyone thinks they have an important job and I am NO different, but when I reviewed the last 10 calls I made, 6 could have waited. My sense is that most people are the same. I am all for taking a call in public if it is an emergency but calls like:
What are you doing tonight?
I can't believe Rich didn't call you!
Sorry to hear you will miss the big game
These calls don't sound like they qualify as emergencies in my book.
With unlimited cell phone usage, I believe things will get a lot worse before they get better.

"No cell phone" areas will pop up everywhere in the next year. To me that is a good thing.
There might be some who don't understand what bugs me about all this.
Am I bothered by an invasion of my privacy?
Am I irritated because of my lost quiet time at the gym?
Am I annoyed because I pay good money for an enjoyable dinner or night at the movies, only to have the experience ruined because of a lack of common courtesy?
Am I upset at myself for sometimes doing the same thing?
Actually, it's all of the above.
Am I the only one bothered by this? I look forward to your comments and stories.