I can remember growing up and having discussions with my parents about getting a pet and most importantly: naming the pet. Growing up, we had dogs that had the names of Peppy, Duchess, King and Shayna.
Last year we had an addition to our family: a 3 and a half pound Yorkshire Terrier. Considering my kids aren't old enough or creative enough to come up with names, that was left to Tricia and myself. Frankly it was one of the easiest things to do. Since we recently moved to Texas from Massachusetts, our new Yorkie is now named "Boston."
In the past, Rover, Fluffy and Spot were common names. Today, people are more likely to choose traditional human names for pets or have children who co-opt popular Disney and other storybook characters.
I was reading an article that had information from Veterinary Pet Insurance with the 10 most popular dog and cat names.
Dogs:
Max
Bailey
Buddy
Molly
Maggie
Lucy
Daisy
Bella
Jake
Rocky
Cats:
Max
Tigger
Smokey
Tiger
Chloe
Shadow
Lucy
Angel
Oliver
Simba
Here is a picture of our 3 and a half pound bundle of joy!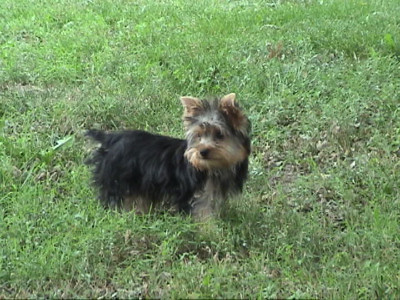 I look forward to hearing the names of your pets and the stories of how you named them. If you have pictures of your pets on the web, feel free to include links to them.