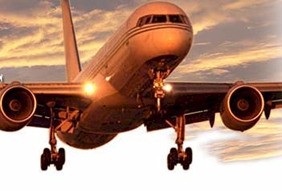 I think most people dislike flying, perhaps even hate it. Maybe it's because of the long lines, extra security, airline food or the pure fact that you are FLYING in the air…off the ground.
For me, I look at it a little different: it's just part of business. It's the means from getting from one place to another. This year I will fly close to 100,000 miles and I'll admit I still am very amused at some of the things I see at the airport:
Unless you are Superman or Barbara Eden from I Dream of Jeannie, it is near IMPOSSIBLE—if you are in row 19—to get off the plane before the person in row 7.
Why is it okay to cut in line at an airport? Nowhere else is it allowed, but at the airport we say it's okay.
I still get a chuckle when 100 people rush towards the gate to get on the plane when most of them are in group 6 and won't move an inch. Then, the rest of us have to navigate through these people to get on the plane.
One of my favorite stories is when I was flying around 8:00 one night on a non stop to Miami. The lady sitting next to me was greeted by an old friend who was walking to her seat. It sounded like they hadn't seen each other in years. They embraced for a minute while the line behind them came to a complete stop (of course someone behind her didn't expect the sudden stop and smashed her nose into the guy in front). One of the ladies asked the other where she was going. As I mentioned earlier it was late and we were on a non stop flight to Miami. So I am thinking her answer was going to be…you guessed it…"Miami ." Of course I was correct. The lady sitting next to me then said what I thought was the funniest thing I had ever heard. She said, "Have a safe trip!" Since we were all on the same plane, I thought the comment was very funny.
The next time you are at the airport, look around, listen and watch. I assure you the people watching is some of the best.
I look forward to hearing your stories and experiences.