When I'm involved in something new, I can typically see where it is headed. I can see the ultimate end goal and know how to get there. In fact, sometimes I can predict when that goal will be reached in terms of timeframe.
I will admit recently I was in uncharted water. During the first quarter we had been discussing doing a blog, and frankly I didn't know what that meant. Not only did I not know what that meant, but I truly hadn't spent any time on any blogs.
As I got more information (translation: Randy, Joan and Frank—our internal team—were pushing me to start a blog), I started to check blogs out and began to get more comfortable with the whole idea. I was unsure, but I trusted the team and their advice, so we started to discuss it in greater detail. My questions were obvious:
Would I be able to think of any topics to write about?
Would anyone want to read what I write?
Would anyone comment?

I am excited to tell you that the blog was started over two months ago and the site has over 2,500 hits, 143 comments and we just had our 32nd posting this morning. The blog has really built up steam and has clearly exceeded my expectations. It has opened my eyes to a whole new world. Over the past few months the blog has been a springboard for speaking at conferences, meeting new contacts and as a bonus, I have learned a great deal!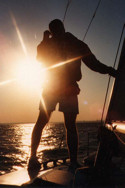 Sometimes it's okay to not know exactly where you're headed. My experience here at M/A/R/C has reinforced some prior learning, and I think this is true for all management. As companies desire to move forward and develop additional strategies, they will venture into new and uncharted territory. And if upper management is comfortable with those chosen to be at the helm, trust and teamwork will uncover opportunities and deliver unexpected achievements.
I want to thank everyone who reads the blog, posts comments, sends emails with topics and forwards the link to industry contacts who might be interested in certain topics.
Congratulations, and thank you to Randy, Joan and Frank. You were right!
Thanks for pushing me!
I look forward to hearing other thoughts and comments from readers.