Even though my beloved Boston Red Sox had a sub par year, it was a very successful year in the eyes of Major League baseball. The reason is simply…actually I can give you many reasons…like over 76 million reasons. In fact, 76,043,902 reasons. That is the exact number of fans who went to baseball games this year.
Why is that number important you ask?
Because this set the all time attendance mark for baseball—a record that has now been broken three years in a row.

On page 12c of the October 4, 2006 issue of USA Today, Major League Baseball took out a full page ad thanking their fans—all 76,043,902 of them. It started me thinking about how many respondents the market research community might have on an annual basis—perhaps 100 million?
Clearly that can be debated…but today isn't the day for that.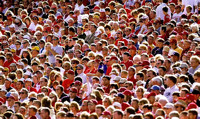 But wouldn't it be cool to have the research community thank our lifeblood of the industry—OUR RESPONDENTS! Perhaps the research industry should start an ad campaign to thank respondents. And think of how great would it be if the research community worked together to make this happen.
Everyone in our great industry acknowledges that response rate is the biggest problem that the industry is currently facing. This is such a hot topic that an entire conference was chaired by Bob Lederer last month. Isn't it time to stand up and really do something about this?

So here is my challenge. I am looking for 100 companies to work together and commit $10,000 each. (The math is simple. That's one…million…dollars).
Is this an opportunity for data collectors, full service companies and clients to really work together?
Would this make a difference?
Would this be enough to increase awareness?
Would this increase response rates?
We are actually looking for 99 companies because as President and CEO of M/A/R/C Research, I will put our money where our mouth is and commit to the $10,000 price tag.
I look forward to reading your comments and potential next steps.