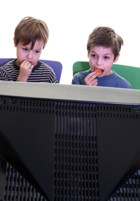 So it's a Sunday morning during the fall and I am getting the boys dressed for the day. Of course there is little or no chance their outfits look good or match, but to me that matters little on a Sunday when there is football to be watched.
Like most little boys they have a number of different player jerseys that their Dad has gotten them over the years.
For some reason today, I paused when I was getting them dressed. My initial thought was: "Would it be a Drew Bledsoe, Adam Vinatieri or Ty Law shirt?" And then I thought about it and realized that all of those players are still in the NFL but don't play for the team we have the shirt for!
Welcome to the reality of sports where the almighty dollar wins out 99% of the time.
What happened to the old days when players ONLY played for one team in their career?

What happened to the name on the front of the shirt meaning more than the name on the back?
What happened to the days where you could spend $75 on a shirt and you could keep it for more than two seasons without the player leaving the team?
Well the holidays are right around the corner and I thought it would be interesting to identify a handful of players that SHOULD be playing with their current team for at least the next five years. This way it may help you in not making the same foolish mistake I have made and waste money on shirts that have little or no meaning.
Peyton Manning – (18) QB for the Indianapolis Colts. Yes he will be 35 in five more years but I believe he is a loyal guy and will retire a Colt. Not that this matters in football but his current contract goes until 2011.

Albert Pujols – (5) First Base for the St Louis Cardinals. He is the real deal and will be with the Cardinals for many years to come

Dirk Nowitzki – (41) Forward for the Dallas Mavericks. Dirk is 28 and a 9 year veteran of the NBA. Mark Cuban is way too smart to let this guy get away anytime soon.

Dwyane Wade – (3) Guard for the Miami Heat. The best is yet to come from him. This is a great market for this soft spoken star.

Rick DiPietro – (39) Goalie for the New York Islanders. Yes, Rick is solid; yes, Rick is only 25; and yes he signed a massive contract that won't allow the team to trade him.
Does it bother you that so many players jump teams so often?
What are your thoughts? What players do you think will be with their current team in 5 years?