I remember when I used to go to the ARF in New York and the exhibit hall was on two floors. The hall was jammed with wall to wall people and frankly it was the place to be. I couldn't wait to see the newest technology in our industry, hear about what was on the horizon or frankly go to the Beta Research booth and get an autograph and picture of one of the many celebrities that were there year after year. Every November when I purchased my new Day-Timer it was the first date I blocked out. A can't miss conference if there ever was one.
When I returned from NY last April after my last ARF, the experience was so different. Prior to arriving, I was disappointed that I had so many meetings scheduled and that I had only scheduled three hours for the exhibit hall. Unfortunately that was plenty of time. The aisles were bare most of the time and walking through the corridors wasn't an issue like it was in the past.
Maybe I was just attending the new ARF – maybe the next can't miss conference?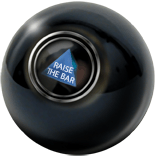 I just returned from exhibiting at "The Market Research Event 2006" which was held in Los Angeles last week. When I asked how many people attended, I got lots of different answers from a low of 700 to a high of 1300 attendees.
Here is what I do know:
There were over 120 presentations
At least 850 attendees

The conference is probably the most expensive in the industry
And there appears to be a buzz in the air about this conference!
Like most conferences some of the presentations were infomercials but some of them were rock solid.
IIR does a great job of marketing this event. They have already committed to doubling the size of the exhibit hall next year and it wouldn't surprise me if they increase attendance by 40%. One of the most amazing things to me is this conference has only been around for three years.
I am not saying 100% of you should attend but what I am saying is that you need to check it out and make an informed decision.
The Market Research Event 2007 is scheduled for October 14-18, 2007.
I look forward to other people's thoughts.