In the past 20 or so years I have probably been on thousands of sales calls. During that time:
I have made almost every mistake in the book
I have had two dogs fall asleep on my feet
I have met some very interesting people
And of course I have had some of the funniest experiences ever.
One of my favorites is when I was on a sales call and meeting a prospect for the first time. We were meeting at 10:00 at a Pancake House to discuss our capabilities.

Since I had already eaten I, got an English muffin while my prospect had a full breakfast. During the meeting he was drinking tea and ordered pancakes, eggs and bacon. It was almost as though he hadn't eaten in days. During our discussion he was eating his pancakes and started to pour syrup on them when all of a sudden I noticed he grabbed the hot tea instead and proceeded to pour hot tea all over his pancakes.
At this point, I think I remembered hearing from the pancakes "someone toss me a life jacket." I obviously didn't help them out and decided it might be best to think of something else so he didn't notice me laughing.
I thought he would say something. Nope. He continued with our discussion and actually ate all of the pancakes. Yes, he ate all of them!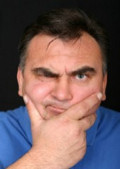 The best part of the story is on the way out he actually turned to me and said "you may want to complain—the food today wasn't that good".
At least six years have gone by, but I still chuckle when I think of that story!
Everyone has classic stories. I look forward to having you share yours.