I guess I would consider myself a creature of habit. I'm not sure that this is a bad thing, but I do tend to get into a routine and it occurred to me that I do a number of things the same way when I am NOT traveling.
Here is a list of seven things I do before 7:00 AM:
Check the status of the revenue for the month—a few passwords, a click or two, and magically I know the revenue for the month by department. I am sure most companies do this, but if you don't, this might be something that you look to change early in 2007.
Make sure I have read Daily Research News and the news on Worldopinion.com from the day before. This is a very easy way to know what is going on in the research world. If you would like to receive emails from them daily, you should sign up right away.
Check my Outlook calendar. I like to make sure I am totally prepared for the day and make sure I don't need to think about any last minute preparation for any meetings.
Check my email and make sure I have less than 44 emails in my inbox. This way I can glance and see all of them as opposed to scrolling down.
Go to excite.com and read the headline news.
Check my office and cell voicemail. My goal here is to ensure that I have returned all calls and also update myself with any information that may have been on my voicemail.
Call my friend Rick "Rooster" Hurwitz and debate the world of sports on my way to work. Yes, this one is done around 6:00am.
Why is this important? For me, I am trying to not only be prepared, but get off to a quick start. I find that I can accomplish a great deal if I get in early, think about the day and make any last minute changes that are needed.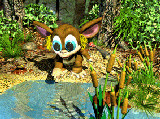 Are you a creature of habit? What do you do? I look forward to reading your comments.