Recently I have noticed that the number of emails and calls I received involving companies looking to start a relationship with M/A/R/C have increased. The interesting thing is that a large percentage of those requests are coming from companies based overseas.
I will admit I am NOT a huge fan of global outsourcing and don't understand all of the benefits. Yes I have tried, but I still come back to these top three benefits:
Costs
Costs
Costs

I have attended and listened to capability presentations and I am hard pressed to think that the communication, quality, trust and timing are better than companies based in the United States. To me, communication, quality, trust, timing and costs are what most people base their decision making process on when looking to subcontract work out. So for me, the only benefit is saving money. And frankly that isn't a compelling enough reason for me right now!
I will say that we have had a few experiences with global outsourcing, and frankly they didn't go well. Communication was a challenge; expectations were not met. Yes we saved money. BUT when you factor in the extra staff hours to manage the project, the savings was not that great.

We feel we represent our clients and need to deliver the best quality possible. And at this point I don't believe it is through global outsourcing. I often wonder about how employees who work for major corporations feel about their companies moving operations overseas. Is it a necessary way to compete?
I truly believe companies like MKTG, Inc, Western Wats and other U.S. based companies deliver at a higher quality than phone centers and programming companies overseas. Can I prove it? Maybe. But it would be costly.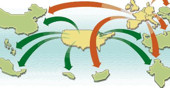 I realize that a lot of work is leaving the United States and going to companies based overseas. Some of that work is probably a good fit. All of it? Probably not. I believe that some of that work will return to U.S. based companies in the near future.
I believe global outsourcing is here to stay. Yes, there is a place for it.
I look forward to hearing the stories and experiences:
When does it work?
When do you have issues?
Are you working with companies that have U.S. operations as well?
Can you share best practices?
Have you done parallel testing?

Did you conduct a site visit?
How long did it take you to find success?
How do clients feel about this issue?
Now is your chance in a public forum to educate myself and other readers.
We look forward to hearing from you.