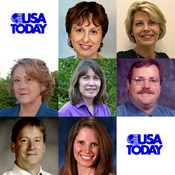 Do you know Nancy Yacavone Karpyk or Susie Stevens? What about Nancy Elliott, Patti Ball or Randy Cook? Well if you don't know those people you must know Darrell Woods or Paula Moore?
Yeah, probably not. Let me let you in on a secret: I don't know them either. Those seven people as well as thirteen other strangers to me are all part of USA Today's 2006 All-USA Teacher Team.
Thank you, thank you, thank you!
To me you are some of the most important people in the United States. You, as well as other teachers, are so important in today's society teaching the current generation of students.

I tend to be very quick at math and I can trace the reason why all the way back to second grade. My teacher at the time was Mrs. Hartwell. She had the class play a game called "around the world". Basically what would happen is the first two students who sit next to each other on one side of the room would stand up, Mrs. Hartwell would then show a flashcard with a math equation on it. The first person to shout out the correct answer would win and move on to face the next person. This would continue until three people made it back to their desk. The winners got cup cakes. Yes, I have a sweet tooth (thanks, Mom) and needed to win. Most of the time I was in the top three and enjoyed every bit of the prize.
Clearly I didn't know at the time that Mrs. Hartwell and the game "around the world" would stay with me for 37 years.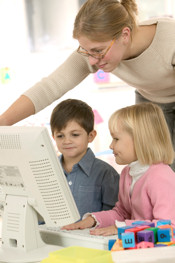 I am sure all of us know teachers. My mother-in-law taught sixth grade for over 35 years until she retired a few years ago. We have a close friend of the family named Keri who is currently a teacher. When you listen to their stories, they all possess the same passion and desire for the teaching profession and absolutely love it!
Today is "Thank a Teacher Day." Thanks Yacavone, Susie, Nancy, Patti, Randy, Darrell, Paula, Bev and Keri.
I look forward to your comments and other stories like "around the world."