Periodically I will review my 401k accounts. When I checked online this morning I noticed that my Harris Interactive account was up 16.5% year to date and my Omnicom 401K account was up 16.6% year to date.
It got me to pause and think about a challenge, a little contest for the blog. So here goes.

What I would like to propose is for readers of the blog to pick one stock that they believe will go up dramatically in 2007.
Here is what you need to do:
Respond to the blog with your stock name and if possible symbol
State the reason why you picked the stock you did
It's as simple as that.
We will do the rest.
A few things to remember:
You need to respond by January 15, 2007
You can only have one entry
Only one person can have a stock, so the person who responds first gets the pick and we will notify anyone who has a duplicate stock.
If a stock splits, we will make the necessary calculation and adjustment
We will use the stock prices as they were at the time the market closed on 12/29/06.
We will frequently post a leader board.
There will be at least two prizes.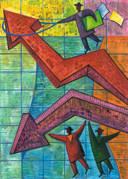 The 1st prize will be $250.00 for the person whose stock goes up the highest percentage in 2007.
The 2nd prize will be $100.00 for the lucky loser whose stock goes down the highest percentage in 2007.
I will get the ball rolling with my choice. An easy one. Coca-Cola Bottling Co. Symbol COKE. They will follow up a successful 2006 with an even better year.
Take the stock challenge of 2007!
Get your entries in today!