Yes I have gone to a lot of conferences. No they aren't all in the marketing research industry. For me, when I go to a research conference they appear to be different—not just in the content of the presentations or the city where the conference is being held, but in the affection that people have towards each other. Recently I have noticed:
Lot's and lot's of people (including myself) giving hugs when you see a person you know at a conference.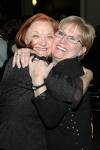 And I…
Hear questions like "How are you?" And statements like "I miss you"
"How is your ailing mother?"
"How was your recent vacation to London?"
Why is that?
It appears that people in marketing research really like each other, enjoy seeing each other at conferences or speaking to them on the phone and truly show a sign of enjoyment when they are with each other.
Laughing, giggling is common practice. Am I missing something, or is our industry different?
Do you feel that way as well?

Did we all grow up in the industry and feel a special connection to each other?
If so, is that the reason people who tend to get into this industry by accident never leave?
I look forward to your thoughts.