At this point in my career I am not sure how many business trips I have taken, but I can assure you it is hundreds! During that time I have had everything happen to me that I thought was possible – what I am here to tell you is that is untrue. Earlier this week I flew on a two day business trip that started Sunday night flying to Greensboro, NC. I would be spending about half the day on Monday there before I flew to Pittsburgh with a colleague to meet one of our strategic clients.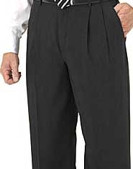 Tuesday morning I woke up and the start of the day wasn't unusual at all. Yes it was snowing out, but being on the East Coast in January, you come to expect that. As I was getting ready to get dressed I went into the closet to pull out my suit and much to my surprise I found only the jacket—no pants! Yes that is right: no pants to a new charcoal gray suit that I only wore once. A few thoughts went through my mind:
What am I going to do?
The stores aren't open this early!
Is someone playing a joke on me?
And of course…
WHERE ARE MY PANTS!

I quickly thought that perhaps they either fell off the hanger at my house or in the hotel the previous night. I called the Greensboro Airport Marriott hotel and spoke to Denise in housekeeping, who was VERY, VERY sweet and never laughed as I told my story. My request was simple: could you please go up to room 657 and look in the closet and see if my charcoal gray pants are there? Ten minutes later I got a voicemail message that my pants were found and on their way back to Dallas!
Business travel can be lots of fun – thankfully this one had a happy ending.
Time for you to share your funny stories! I look forward to hearing from you.
P.S. – I want to send a personal thank you to Denise and John Rothkopf who is the hotel manager

who also was kind enough to call me back. Once again the Marriott hotel exceeded my expectations and had terrific customer service.
P.P.S. – If you were wondering if I wore pants that day, the answer is yes, the same suit I wore on Monday.