To start with, let me get you into the zone.

You are going on some type of trip. Perhaps it involves a plane, hotel and possibly a car rental. If for whatever reason you are delayed—since I travel almost every week this happens often—what goes through your mind:
What appointments am I going to miss?
Is there a later flight?
Does it still make sense for me to go?
I need to cancel the hotel!
Am I going to get stranded?
Do I need to make a new hotel reservation?
I am sure there are many other questions but these might be the most obvious.

What doesn't go thru my mind quickly is notifying Hertz, Avis, Budget or whatever car rental company I have my reservation with. In fact, most of the time it doesn't matter if I cancel it or not.
Why?
Because unlike the airlines and hotel industry, they don't have any cancellation charges! In fact there is NO penalty for not showing up! NO penalty for not calling! Some of the time I will call them if I'm at the airport and a little bored and it seems that when I call and notify them they are a little surprised and might want to say "why are you calling".
Why is that their policy?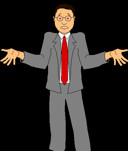 Because it is always done that way? That doesn't make sense. What makes more sense as the reason is none of the big car rental agencies have stepped forward and made the plunge and enforced a new policy! If they did I believe everyone would follow.
Even though I don't understand why car rental companies haven't changed, I am happy that it is one less thing to think about when travel plans change.
Are you surprised this is just the way it is?
What are you thoughts?