Do you have retail clients? Do you have retail prospects? Are you a consumer? If so, you will want to read on.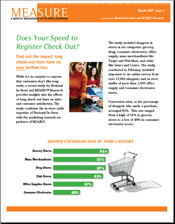 We have just introduced a new monthly newsletter – called MEASURE – focusing on the retail experience.
The study included shoppers in six categories:
Grocery
Drug
Consumer Electronics
Office Supply
Mass Merchandise
Club
Our information this month was compiled from online surveys with 17,000 consumers and in-store audits (conducted by sister-agency National In-Store) of more than 3,500 office supply and consumer electronic store locations.
Did you know?
11% of grocery store shoppers who left without buying, said waiting to check out was a factor in their decision not to make a purchase!
The check-out wait influences males 40% more than females with regard to deciding not to buy!
Wednesday has the shortest waiting lines!
Since our launch earlier this week, results from MEASURE have already been highlighted on ABC News in Sarasota, Florida; in the Herald Tribune (also in Sarasota); and in BrandWeek.
Next month's issue of MEASURE addresses the impact of store appearance and cleanliness.
If you are interested in these types of things, you will want to click on the link below and find out more.
http://www.marcresearch.com/measure/
We look forward to your comments and reaction to our first issue of MEASURE.