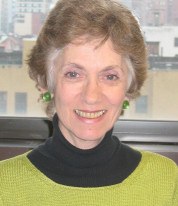 If you closed your eyes and thought about qualitative research, what moderators might come to mind? I have had this discussion with a few folks in the research community and a name that makes every list is Judy Langer. She is clearly a professional researcher, she has written a book on qualitative research and she was a founding member and first president of the Qualitative Research Consultants Association. All I can say is WOW!
I hope you enjoy getting to know Judy Langer a little bit….
MD
You have been in the industry for 30+ years. How did you first get started?
JL
I always say I decided to go into market research after I was already in it. I majored in political science ("government") and took undergraduate and graduate courses in public opinion ("voter behavior") that I found fascinating. It appealed to my desire to understand people more than playing with color wheels in the psych course did. My grad school teacher at Columbia wrote a nice letter for me to public opinion firms so my first jobs were at Harris and then Roper. Naïve person that I was, I finally realized that both firms made their reputations on public opinion research but that their "bread and butter" was doing market research. After some time in quantitative research, where I always felt like a misfit, I bumbled into qualitative research at a now-defunct firm, MPi, headed by Emanuel Demby. Their philosophy was that all researchers should do focus groups and depth interviews and that every large quantitative study should be preceded by qual. It was instant love for me. Wow! This is fun and so interesting! I've been doing qual ever since.
MD
What is the funniest experience you have ever had as a moderator?
JL
Well, I'm not sure you're going to want to print this. It was focus groups I did on a new hemorrhoid remedy – an aerosol spray that people somehow were supposed to spray on the so-called "affected" area, holding the can straight up, not upside down, while avoiding spraying their private parts. The product was given to respondents to try at home prior to the focus groups. When one woman said she had "plasticized my heinie" and a man that he would never have more children (in separate focus groups, of course), I dissolved into giggles. Somehow we managed to get through the groups.
MD
What would you hope readers learn from your book "The Mirrored Window: Focus Groups from a Moderator's Point of View".
JL
Several things: Qualitative research truly is an art, not a mechanical process of writing questions and exercises in advance and marching through the topic guide. We're really investigators trying to understand people's emotions and behavior. We need to understand what the client's issues are, keep those in mind at every moment and always be looking for possible solutions. A good qualitative researcher (like a good quantitative one) is a true professional, not someone who just does "a few groups" here and there. The other important message, I think, is that however good we are as researchers, we need to deal with the practical logistics of the process – all the many details to making the research work smoothly and making the end results productive.
MD
What advice would you give people who would like to start out in qualitative research?
JL
Be genuinely interested in understanding people – or, if you aren't, find another field that fits you better. Get training – go to one of the schools for qualitative research, read and, if you can, observe experienced moderators. Apply the knowledge and skills you have – from whatever your field of study and work previously.
MD
What would people be surprised to know about you?
JL
Beats me. That I love to dance (ballroom) and collect clocks?
MD
What changes do you see in qualitative research in 2010?
JL
Qualitative research keeps evolving and expanding. I expect to see an increase in the types of high tech tools we have for interviewing, observing and analysis. And, at the same time, I expect to see continued use of the basics, face-to-face/person-to-person contact between researchers and participants.
MD
What are the top five things that are a must-have when dealing with a focus group facility?
JL
Work with the best and don't (just) price shop. Go back to the facilities you like and trust.
Treat facilities as a true partner – value their feedback, listen to the problems and ask for their constructive suggestions. Understand their job is a very tough one and the good facilities really want your study to go well. Do your best not to throw last-minute difficult-to-do requests at the facility.
Spell out what it is you want: have a good, detailed screener and rescreener; explain your requirements for the room set-up, refreshments, etc.
Be sure you get their current address and realistic travel times during rush and non-rush hours to give the client. (Sounds like a small thing but most of the time this isn't done.)
MD
Having been a moderator for so long, there must be something about the experience that keeps you motivated…what is that?
JL
It really is fun, even with the headaches. I always feel I'm learning and growing intellectually, and that I'm continuing to hone my skills. I love the interaction with people I interview, with rare exceptions. I like seeing what people outside my "hometown" of Manhattan are like; I love New York too but we can be provincial.
Seeing the way our society has changed over the years is fascinating too. When I started, women's focus groups were done during the day because only "housewives" were considered important to marketers. Now, of course, there is widespread recognition of women's roles in so many areas of life.
The way to keep a "job" interesting after years is, I think, to keep pushing yourself by asking what have I learned and how can I impart that to others. In the last few years, too, I've gone to more international conferences on qualitative research along with QRCA conferences, learning from and sharing with others. In addition to studying consumer trends, I continue to write and give presentations on trends in our field. This summer I'm going to be conducting a workshop on qualitative research with Pat Sabena in Ukraine. So, life hasn't gotten boring yet!
###
I hope you enjoyed the interview. Feel free to post any thoughts or comments about qualitative research or Judy Langer.
About Judy Langer:
Judith Langer is President of Langer Qualitative, LLC. An expert in qualitative research and on lifestyle trends, she previously was Senior Vice President, GfK NOP Qualitative Practice, and headed her firm, Langer Associates. A qualitative researcher for 30+ years, Judy is often published in research publications, including the American Marketing Association's Marketing News and Quirk's Marketing Review, and is a speaker at a number of industry conferences, such as AMA, AAPOR, ESOMAR, QRCA and the MRA. At GfK she did the research for and wrote TrendWhys on consumer lifestyle trends for Roper Reports. She is a member of the Market Research Council, a by-invitation organization of industry leaders.
She was a founding member and first president of the Qualitative Research Consultants Association, has served several times on its Board of Directors, and is currently on several of its committees. She has also served on the Board of the American Marketing Association. Her book, The Mirrored Window: Focus Groups from a Moderator's Point of View, is a practical and opinionated guide to the use of qualitative research. Her BA is from Smith College, MA from Columbia University, both in American government. She has been a guest lecturer at Columbia, Pace and New York Universities on qualitative research.