Everyone knows I love baseball and love to eat. So put the two together, and I am in heaven.
When I was growing up, we had season tickets to the Red Sox and must have gone to 35 games a year. Back then I did everything backwards. As a 10 year old I remember going with my dad and having ice cream in the first inning, a pretzel in the third and then a hot dog in the sixth. It sounds like a stomach ache waiting to happen but, what a great time I had each and every game. I still relish those moments and frankly miss them a ton.
I was reading a USA Today article and they were discussing which stadiums have the best food. Here is their list: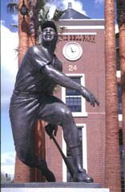 AT&T Park San Francisco
Kauffman Stadium Kansas City, Mo.
Dodger Stadium Los Angeles
Petco Park San Diego
Safeco Field Seattle
PNC Park Pittsburgh
Citizens Bank Park Philadelphia
Jacobs Field Cleveland
Coors Field Denver
Miller Park Milwaukee
I have been to all the stadiums listed above except for two: Coors Field and Kauffman Stadium. Two of my favorite parks for food are on this list. I agree with their choice of AT&T Park in San Francisco. The garlic fries are awesome and worth the 25 minute wait. I have had them in other stadiums but they have the best by far.
I also love the food at Dodger Stadium. I still remember going to Dodger Stadium with my college roommate Kenny and dinning on Dodger and other great food at the park.
The one that quickly comes to mind that they left off the list is Camden yards. I love Boog's Barbecue. The barbecue sandwiches are a must-have at any Oriole game!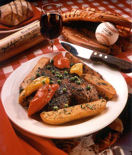 To no surprise Fenway Park isn't on this list or frankly any list. The food there is very weak. Over the years it has improved, but the lack of space probably hampers them from getting state of the art equipment in the kitchens.
Do you agree with their list?
What is your favorite?
How about your least favorite?
I look forward to your comments.