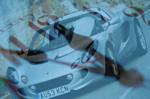 Yes cabs are expensive and in some cities very expensive. Sometimes when I travel, I think about renting a car but I only need it for a few hours, so I am better off jumping in a cab and not dealing with a car and hotel parking (which in some major cities is a fortune!)
It isn't shocking to know that others feel the same way, and now car rental companies are offering hourly rentals:
Hertz Car Rental announced that it will offer hourly rentals in three locations in New York City.
In the next few weeks Enterprise Rent-A-Car said that all eight of its Manhattan stores will offer hourly rentals. In addition, Enterprise offers hourly rentals in seven other cities — Washington, Seattle, Chicago, Boston, San Francisco, Philadelphia and Portland, OR.
Neither company rents by the hour from airport locations–which makes some sense, since you probably wouldn't want to return the car at the airport. Hourly rates start at about $8.75 for the smallest cars before taxes and fees. Daily rentals for compact cars in Manhattan start about $80 on weekdays before taxes and fees. So there is a huge savings if you only need the car for a few hours. (Not to mention the savings of not having to park at the hotel overnight in New York, which could be another $45.00.)
I didn't realize it, but two companies, Seattle-based Flexcar and Boston-based Zipcar started the hourly rental business several years ago in large cities, hoping to draw people who don't own cars like New York City where over 75% of people don't own a car. I did spend a few minutes on the Flexcar and the Zipcar websites and found them easy to navigate and some very cool features.
Did you know about the service?
Have you used the service?
Do you think this is a good idea?
Would you ever use the service?
I look forward to your comments and feedback.