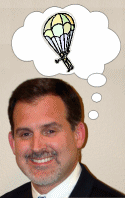 Last week I was flying back from Chicago. I started looking out the window and day dreaming a little bit. My colleague next to me had her eyes closed and was probably pretending to sleep so she didn't have to have a conversation with me. (Amy clearly a smart move!)
As I was looking out the window I thought about what it might be like to be up 10,000 – 12,000 feet and actually jump out of a plane. To me it does sound a little crazy to go a few miles up, have the door open and probably see land and jump…
I started to ask myself what kind of person does this? Who would jump from a safe plane to the ground? Are the people who do this crazy? Are they just thrill seekers? After a few minutes I asked myself a very important question – would I do this? Am I crazy to even think about it with a family, good health and a great job?
I start to imagine myself with a parachute on, goggles, the door open and wondering if my heart would stop. Could I actually do it without a small push and frankly attached to an experienced skydiver. One thing is for sure, if I was ever brave or crazy enough, I have two friends, Andrew and Kenny who I know would do it. So in some ways I would be in good company.
Have you ever jumped out of a plane?
Do you know anyone who has?
Would you ever do it?

I look forward to your thoughts and comments.