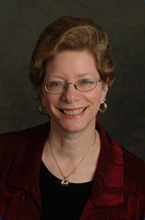 Based on the title of this posting you might have thought this was about me. That couldn't be further from the truth. Last week I was in San Francisco for the MRA National board meeting and 50th anniversary conference. During that time I was fortunate to be around so many people who truly love this industry and profession.
I was fortunate to watch poetry in motion. I was fortunate to be around someone who never ceases to amaze me. I was honored to be in the presence of true greatness in running a board meeting. It is a privilege to have the same name as someone who has so much class, intelligence and heart as this lady has. The person I am speaking about and describing is Merrill Shugoll.
For the last year she was the president of the MRA. Here are a few of Merrill's accomplishments.
Under her leadership the MRA:
Launched the new value-added membership structure
Exceeded the Professional Researcher Certification (PRC) goal and now has almost 1,000 people certified
Launched a virtual international chapter to better serve and learn from our colleagues abroad
Designed On-Demand Education to make learning more convenient for members
Launched the Exchange Evaluation Program (EEP) so that members can learn more about the business practices of clients and suppliers before working together
Launched new Affinity Programs for Members
Had over 1,000 people at the Annual conference – the highest attendance in years!
Wow!
Please know that everything she did was for one reason and one reason only – MRA members. Every decision and strategy was based on the membership and the industry.
For those of you who don't know Merrill that well – in her spare time she is a wife, Mother, daughter-in-law, business executive and moderator. Merrill is very family-oriented, loves the arts and the research industry.
Every speech she has delivered is filled with passion, energy and meaningful words. Her comments Friday morning were so powerful that I actually got a little misty. At the end of her speech she thanked the members and the board. In reality, we should be thanking her for everything she has done and continues to do. We should be thanking Mark, Lianne, Cara, Joan and the rest of the Shugoll staff and family for supporting Merrill during her presidency and allowing her the opportunity to make a difference! Thanks for sharing her for the past few years and allowing us to see how special she is and admire what each of you sees everyday.
Thanks Merrill! This industry is so much better with your leadership and involvement.