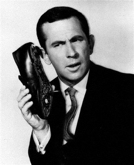 I always love a good sitcom. I love to laugh, forget about life and watch a show that can poke fun at everyday situations. The definition of a sitcom is a combination of two words – Situation Comedy. I am sure at least a handful or two of readers didn't know that. A sitcom is typically a thirty minute television stage comedy which can be a humorous drama based on situations that might arise in day-to-day life.
I can still recall growing up as a youngster (yes very young) in the 1960's and watching a bunch of sitcoms. From time to time I will still channel surf looking for a good comedy. I remember getting dressed in the morning and catching 15 minutes of a show–I never had to watch it in its entirety because they were never that deep.
Here is a partial list of the sitcoms from the 1960's.

Bewitched
F Troop
Family Affair
Get Smart
Gilligan's Island
Gomer Pyle, U.S.M.C.
Green Acres
Hogan's Heroes
I Dream of Jeannie


The Lucy Show
McHale's Navy
Mister Ed
My Three Sons
Petticoat Junction
The Addams Family
The Beverly Hillbillies
The Dick Van Dyke Show
A number of these were my favorites. If I had to narrow the list to one and only one I would go with Get Smart. The show debuted in 1965 and lasted until 1970. I still chuckle as Maxwell Smart and Agent 99 fight the bad guys every week and of course always won.
Here is an excerpt from Wikipedia's write-up on Get Smart:
The series starred Don Adams as bumbling secret agent Maxwell Smart, Agent 86. Barbara Feldon character (Agent 99) is never named; even after Smart married her, he (and everyone else) continued to always address her as "99". Smart and 99 worked for CONTROL, a secret U.S. Government spy agency based in Washington, D.C. (123 Main Street). Together, the pair investigated and opposed various threats to the world while Smart's bumbling caused complications. However, at each story's climax, Smart never failed to save the day, typically thanks to his own dumb luck and 99's competence. Looking on was the long-suffering Chief (played by Edward Platt), who was always addressed as "Chief". The show was created by none other than Mel Brooks.

The nemesis of CONTROL was KAOS, and KAOS's Vice President of Public Relations and Terror, Siegfried (Bernie Kopell), showed up often as Maxwell Smart's opponent, or would-be assassin. Though on opposite sides, Max and Siegfried clicked personally, and spoke fondly of one another-even when trying to kill each other.
I still get a kick out of Hymie the Robot!
What shows did I leave off the list?
Did you have a favorite?
What sitcom brings back favorite memories of your childhood?
I look forward to reading your choices.