I remember going to my first American Marketing Association (AMA) meeting way back in 1992. I walked into the hotel, checked in and was greeted with a big "Hello! How are you doing?" The person I was speaking with was Jim Dawson, the President of the Boston Chapter of the AMA. He basically single handedly turned around a struggling chapter (the 5th largest chapter with over 700 members). He always had tremendous energy and passion for the AMA. For some crazy reason he asked me to volunteer, and a few years later I followed in his footsteps as President of the Boston AMA.
A lot has happened since 1992. I have moved around a little bit and ended up in a small town in Texas. As I was getting acclimated I went to a local chapter meeting of the AMA, and lo and behold I am greeted with a big "hello" mixed in with a "ya'll" and I am surprised to see who else but Jim Dawson, the president-elect of the AMA Dallas Chapter. Although I agreed to help, I was a little smarter this time and won't be following in his footsteps and becoming President.
This story is just another example of how we live in a small world.
Jim is a professional marketer. He is very client service oriented and is always willing to help out in any way possible.
I hope you enjoy this interview with Jim Dawson.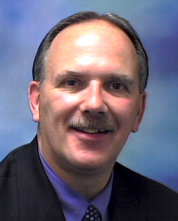 MD
You have been in the industry for 20+ years. How did you first get started?
JD
After being a journalism major in college and working at the Boston Globe, I decided the long, irregular hours of the newspaper business were not for me. I accepted an advertising position with Liberty Mutual Insurance where I wrote ad copy, assisted on the TV show, Outdoors with Liberty Mutual, helped plan special events for the company's top clients and handled public relations for the Liberty Mutual Research Center and their tractor-trailer training school.
MD
What is the funniest experience you have ever had as a marketer?
JD
On a Friday afternoon, having a client, the CEO of a major corporation, ask me in our meeting how he would know when "the moment was right" to engage in a physical relationship with his "lady friend" over the upcoming weekend. Or running a major event for 5000 attendees at a major resort and not realizing there was a second "Jim Dawson" at the property at the same time. He was stunned when fruit baskets, wine and cheese, models calling about what to wear, asking about rehearsal times and more kept calling his room. We eventually met each other purely by accident when we got into the same elevator, at the same time, and the people I was with happened to mention my name.
MD
What advice would you give marketing students that are graduating in May?
JD
Pursue your passion, no matter what it is and regardless of how much money may be in it today. By doing what you love to do, you will always have an advantage over others who may look at what you love as nothing more than a job.
MD
You have probably heard hundreds of industry presentations in the past. What are the top 5 things that are a must for presenting to a group?
JD
Know your audience – their needs, frustrations and expectations
Use smart, intelligent visuals to support, not make your presentation
Engage, involve and embrace your audience; don't deliver a monologue
Tell them what you're going to tell them, and then tell them again
Be prepared, personalize your message and get the audience out of their comfort zone
MD
You have been a leader in so many organizations over the years. Why is this so important to you?
JD
The true value from any group or organization comes from the members and being involved at the highest levels, to know what drives the group, to understand the vision of the founders and to realize it is a superb avenue to grow as a professional, as a leader and most importantly, as a person. The learning opportunities inherent in being in a leadership role are second to none and they offer you the chance to make a significant difference that adds real value to the rank and file membership, the organization itself, and establishes a legacy of success to build on.
MD
What does your agency focus on?
JD
First and foremost, the customers of our clients in health care, medical products/services and B2B organizations. We're about identifying the customers who will buy or use a client's products or services versus those that would, should or could, but in reality, never do. We're also about marketing and integrating messages across on- and offline platforms to connect with the best customers of our clients. And lastly, we're about providing the best thinking possible to enhance the competitive advantage our clients in all situations.
MD
Who would be a perfect client for Dawson Marketing Group?
JD
Our "perfect client" is a firm with clear vision of who they are and where they want to go. What they need is an outside perspective, someone to step back from the "day-to- day" business and identify those areas within the company or organization that are real strengths or competitive advantages, but may for some reason, be underperforming or unrecognized at the present time. This same client realizes the value of connecting 1-to-1 with customers and engaging them in an open and unfettered dialog that is used to drive the inherent strategy, brand message, communications and tactical executions necessary to create advocates of the company, and its offerings.
MD
What would people be surprised to know about you?
JD
For 10 years, I produced "Fantasy Fashions Shows" around the country for major corporations looking for a unique special event to capture the imagination of their clients. I worked with retailers such as Macy's, Marshall Fields, Saks Fifth Avenue, The Broadway, Tootsie's and others as well as nationally-renowned modeling agencies, sound and production talent, and even Leon Hall, noted fashion expert from the E Channel's Fashion Emergency and an associate of Joan Rivers and her Oscar night fashion critique. These special events attracted up to 5000 customers, involved 60+ professional runway models, couture and everyday attire for men and women, and were launched with sound, a spectacular light show, simulcast video, and elaborate staging that rivaled the best of events produced for top designers in New York, Paris or Milan.
###
About Jim Dawson:
After managing the Dawson Marketing Group, a top 25 design firm in Boston (per the Boston Business Journal) for 15 years, Jim relocated to Dallas-Fort Worth and re-opened his agency. An award-winning marketer, he has created programs for General Motors, Anheuser Busch, Verizon, American Express, the World Trade Center Boston, Hyundai, the Harvard Medical School, Carlson Wagonlit Travel and others. Prior to starting his agency, he held marketing roles with Liberty Mutual, DuPont and Kendall, a $1 billion division of Colgate Palmolive.
Organizations including the New England Direct Marketing Association, the Medical Marketing Association, International Association of Business Communicators, and the Health Care Exhibitors Association have recognized programs he developed with various awards. Publications such as Marketing News, Exhibitor Magazine, Sales and Marketing Magazine and Crain's New York Business Daily have featured articles pertaining to campaigns he created. The Trade Show Exhibitors Association recognized a program he created with the Most Remembered Exhibit of the Year Award, and the Public Relations Society of America and Retail Merchants Association awarded him a Best Promotion of the Year Award.
A journalism graduate of Northeastern University, Jim interned at the Boston Globe for three years. He later earned a Certified Business Communicator (CBC) designation from the Business Marketing Association, a masters-level certification achieved by less than 5% of professionals nationwide.
Jim is President of the American Marketing Association, Dallas-Fort Worth, a member of the Dallas Advertising League and the DFW Interactive Marketing Association. He has been a Marketing & Creative Judge for the Annual Crystal Awards hosted by the Houston AMA Chapter the past three years. He has also been a Promotional Judge for the Sizzle Awards – a national competition for promotion and event marketing hosted by Exhibitor Magazine.
He is past-president of both the American Marketing Association and the Business Marketing Association, Boston, and a past-chairman of the Trade Show Exhibitors Association. He has also been on marketing advisory boards for the Dimock Community Health Center, Beth Israel Deaconess Medical Center and the Central Massachusetts Association for Retarded Citizens (CMARC).