Think of a research author, think of a great research presenter, think of a great researcher. And now think about someone who has given so much to this great industry. For me, when I do that exercise I have a list of four people. Included in that list is Bill Neal. In the eighties I remember going to a few conferences and seeing Bill present. I was mesmerized and frankly intimidated with his presentation style, depth of knowledge and big smile. I remember saying to myself that I hope that I can be half of the presenter that Bill Neal is – from the second he walked in a conference room he had total command of the group and had the respect from every attendee in the room.
It is with great pleasure and an honor that today's interview is with Bill Neal.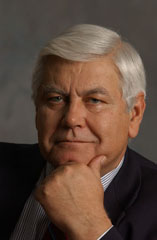 MD
You have been in the market research industry for about 35 years. How did you first get started?
BN
That's really a long story. But here's the short version. When I graduated from Drexel in 1966, I was planning on a career in the military. After my second combat tour in Vietnam, to my utter surprise, the Army sent me to graduate school at Georgia Tech. The inside joke is that the Army probably felt I wasn't ducking bullets too well, so maybe they could educate me. After two years at Tech, I found out that building statistical models and doing marketing research was a lot more fun then getting shot at. So another grad student and I started SDR. A year or so later, a third grad student, Dave Feldman, joined us, and Dave and I have been at it ever since.