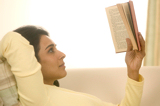 A few months ago when I was in Boston, I had dinner at a friend's house and his wife was getting ready to go to a book club. I have never been part of a book club but have always wanted to. Then earlier today after having lunch with a colleague, I open up my fortune cookie and it says "treat yourself to a good book for a needed rest and escape." I paused for a moment or two and actually had an idea. Why not post a book club on the blog? What I was thinking is picking a book as a test and giving book club members 30 days to read a book. During the month the members would post any thoughts and comments on the book. At the end, I would add a number of questions about the book to spark discussion and look for the members to post additional comments
Yes this is another crazy idea from yours truly. However since I love to learn and like to read, I think this might be an idea to do both at once.
What we are looking for are 10 people to be members of a book club to read a book as a beta test. Once we have 10 volunteers, you will be contacted by email and asked to supply an address (which will NOT be posted on the blog) where we should ship the book. There is NO charge for participating in this book club. We are just asking you to make a commitment and read the book in the next 30 days and comment when asked. If we have more than 10 participants we will randomly pick the people. You are not committing to reading any more than just the one book that we will supply to you.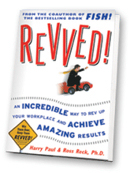 The book I have picked should be an easy read and appropriate to every business:
Revved!: An Incredible Way to Rev Up Your Workplace and Achieve Amazing Results by Harry Paul & Ross Reck
Please let me know if you like the idea and would like to beta test this program.
I look forward to hearing from you.