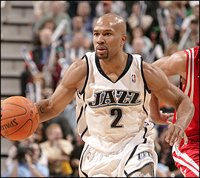 Growing up in Boston, you don't root for the Los Angeles Lakers. In fact you root against them, their players, and their owner and hope that when they came to Boston once a year my beloved Celtics would put on a show for the world to see and "kick some butt." Growing up, those games were always on the biggest stage–on national TV many times prior to the Super Bowl.
In 1996, the Los Angeles Lakers picked him in the 1st round with the 24th pick. He spent 8 years with the Lakers and won three NBA Championships. He isn't a superstar. He is a nice complementary player who goes out and does whatever it takes to get his job done and put his team in a position to win basketball games. He has been playing basketball for his entire life and it is very important to him–but the most important? More to follow.
Almost a year ago, during the off season, Derek and Candace Fisher had their 4th child born–a baby girl named Tatum. Obviously this was supposed to be a happy time in their lives. Unfortunately nine months after she was born, Tatum has been diagnosed with retinoblastoma, a degenerative and rare form of eye cancer, which has required an emergency three-hour surgery and chemotherapy at New York's Presbyterian Hospital.
During the 2007 NBA playoffs, Derek made the decision to be with his family during the surgery. Being by Tatum and supporting his family was MORE important than basketball–a game that he has played since he was a little boy and a game that has earned him millions of dollars.
Derek's family lives in Newark, NJ and he now plays for the Utah Jazz, a team that is thousands of miles away from them. In late June he asked the Jazz to void his contract and release him, stating he needed to care for his daughter. "Basketball is not a priority," Fisher said. "I don't have plans to retire. I would enjoy playing the game, but there are a lot of things to consider."
By the way, the contract he asked the Jazz to void had $21 million dollars left on it!
It is very refreshing to hear about a good guy in sports. Especially since it seems like every hour you hear about some athlete getting in trouble.
Derek…way to go!
You have a new fan in Dallas and his name is Merrill Dubrow!