I am confident that every guy has said to his significant other one of these phrases:
Why is your purse so big?
I can't believe how much stuff you have in your purse!
Do you really need 20 different purses?
I know I have said those phrases and others. If you have ever wondered what items are in those big, fashion-oriented bags you need to keep reading.
Consumer strategist Kelley Styring's study, In Your Purse: Archeology of the American Handbag, is the first qualitative and quantitative study of both the contents and the context of a woman's purse. The study's results were released in April at the M2W™-The Marketing-to-Women Conference in Chicago and were the buzz at the conference.

After reviewing Kelly's website and marketing materials I was very surprised on most of the data but found the information absolutely fascinating.
Did you know there are 8 different purse types?
86% of purses had keys
63% of purses contain food/gum/beverage
51% of every purse has trash
14% of purses had weapons
The main thing that was found is billions of dollars in revenue opportunities for marketers!
"Contradiction is where the genius of innovation lies, and the purse is a bag of contradiction on a string," says Styring, a former Frito-Lay consumer strategy director and Procter & Gamble researcher who now consults with Fortune 100 companies through her company, InsightFarm. "I found that the purse – the nerve center of a woman's life, bearer of her most important things – is also a disorganized bag full of junk. But that's where the opportunity exists for marketers to fulfill unmet needs."
Styring found that 95 percent of U.S. women aged 18-64 carry a purse every day, and that they carry 2.4 purses on a regular basis. Since women make 70 percent of all retail buys, that purse becomes a key purchasing instrument, the only physical link between the home (where needs are created) and the store (where those needs can be fulfilled).
Kelley spent 100 hours interviewing 100 women and cataloguing 100 purses and their contents which was 6,670 objects (guys do the math). On average that is 66 items in each purse! I feel your pain when someone asks you to hold their bag – considering on average they weigh over 3 pounds.
If you are a curious person or a marketer looking for opportunities to better market your products, you most certainly want to reach out and contact Kelley and find out more about this fascinating study.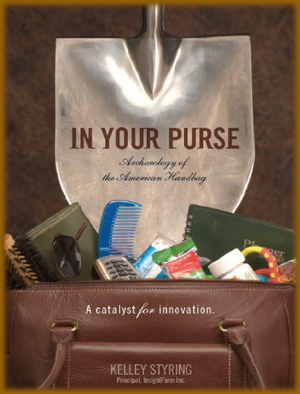 Kelley – nice job. Keep up the good work!
If you want to hear more about Kelley's research and you are going to be in Dallas on July 19th, please sign up for the Consumer Understanding Summit at: http://www.marcresearch.com/summit/.
I look forward to hearing your thoughts and comments.