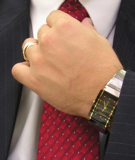 So today is the day of the big interview, the day that your life is going to change for the better. You have done all your homework on the company and feel very prepared for the interview. You know exactly where the company is located, (actually you took a dry run over the weekend to make sure) and there aren't any traffic issues today. You put on your best interviewing suit and the rest is easy.
You had a quick snack and leave for the big interview. You arrive 20 minutes early and you wait downstairs for 5 minutes until you feel it is ok to go up.
You greet the receptionist and now you are sitting in the reception area. To me the next 15 minutes are the MOST important part of the process:
Is the receptionist friendly?
Is there a lot of friendly interaction with co-workers?
Is there a lot of hustle and bustle?
What magazines are in the waiting area?
What is the dress code?
Do people decorate their cubicles with lots of personal items?
Do they have any trophies or awards on display?
Do they display a client roster on the wall?
I believe answers to all of these questions can help you in your evaluation process. Everyone wants a fun and thriving work environment.
Does this office have it?
Would you fit in?
If you arrive early and really pay attention you might be able to find out!
I look forward to reading your comments.