Think of a research author, think of a great research presenter, think of a great researcher. And now think about someone who has given so much to this great industry. For me, when I do that exercise I have a list of four people. Included in that list is Bill Neal. In the eighties I remember going to a few conferences and seeing Bill present. I was mesmerized and frankly intimidated with his presentation style, depth of knowledge and big smile. I remember saying to myself that I hope that I can be half of the presenter that Bill Neal is – from the second he walked in a conference room he had total command of the group and had the respect from every attendee in the room.
It is with great pleasure and an honor that today's interview is with Bill Neal.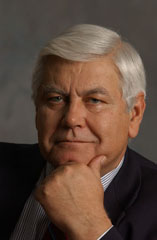 MD
You have been in the market research industry for about 35 years. How did you first get started?
BN
That's really a long story. But here's the short version. When I graduated from Drexel in 1966, I was planning on a career in the military. After my second combat tour in Vietnam, to my utter surprise, the Army sent me to graduate school at Georgia Tech. The inside joke is that the Army probably felt I wasn't ducking bullets too well, so maybe they could educate me. After two years at Tech, I found out that building statistical models and doing marketing research was a lot more fun then getting shot at. So another grad student and I started SDR. A year or so later, a third grad student, Dave Feldman, joined us, and Dave and I have been at it ever since.
MD
What is the funniest experience you have ever had as a researcher?
BN
Well there's been a bunch – too many to mention, and I won't reveal the names of the guilty. When I first started the Advanced Research Techniques Forum, we picked isolated venues in order to optimize discussion times and interaction among the methodologists who attended the conference. For several years, I hosted a late night poker game at the conference. Now, given you have a bunch of research methodologists and statisticians engaged in a poker game (which we called "discussions in advanced weighted probabilities"), one would think you would see some very serious poker being played. Just the opposite. Those poker games would quickly degenerate into the most outlandish and convoluted card games you ever saw – pass the trash, follow the queen, and other ridiculous games that had no resemblance to poker except for the betting. I spent several years trying to figure that one out. My conclusion was that the rather straightforward probabilities of standard poker games bored these folks to death, and their boredom threshold was very low to start with.
MD
What advice would you give market research students that are graduating in May?
BN
Learn to think strategically and out of the box. That's how you deliver true value to your employer.
Know what's important to senior marketing managers and what's not. Address the important things and don't bother with the rest.
Learn your statistics! And how to work with the more popular stat packages. Of all the problems I've seen in marketing research over the years, clearly the majority have had to do with the misapplication of statistics and statistical tests.
MD
You have been a featured speaker at so many conferences. What are some of your secrets to being a great presenter and communicator?
BN
If you're not passionate about the topic you are speaking on, either don't do it, or change the subject.
Take a position, tell it like it is, and don't mince your words.
MD
If you could change one thing about our industry, what would it be and why?
BN
My two professional passions have been realized – a universal training program in marketing research and voluntary certification. I just wish more researchers would participate in those programs. What's left? I would like to see the profession and the practice of marketing research get more oriented to prediction, as opposed to description. I think we spend too much time and resources describing the marketplace and not enough on predicting how the marketplace will react to changes, whether they are product changes or environmental changes. Descriptive research is backward looking.
MD
You have been a leader in so many organizations over the years. Why is this so important to you?
BN
The short answer to that is that I probably never got over being an infantry officer in the Army. But seriously, I think it's terribly important for people in our profession to be engaged in the profession. By that I mean we, as individuals, need to spend the time and effort to continuously improve both the knowledge base we rely upon and the practice of the art and science of marketing research. The not-for-profit associations representing this industry and profession, like the MRA, are at the forefront of leading the profession to higher levels of knowledge, better professional standards, and higher performance. That's how you earn professional respect. I always felt it was important to be a part of that process.
MD
You have been given so many awards during your career. Is there one that stands out a little more than the others?
BN
I was overwhelmed to receive the Charles Coolidge Parlin Award for long term contribution in Marketing Research. Other recipients of that award include Peter Drucker, Frank Stanton, George Gallup, Ted Levitt, Bob Ferber, David Ogilvy, August A. Busch III, Paul Green, John Little, Daniel Yankelovich, Phil Kotler, George Day, Fred Webster, Donald Lehmann, Jag Sheth, Frank Bass, Rich Johnson, Gil Churchill, Glen Urban, and Bob Lavidge. That's some serious company and I am honored to be included on that list.
MD
What would people be surprised to know about you?
BN
I love to grow roses. I wish I had more time to devote to it.
###
About Bill Neal:
William D. Neal is Co-Founder and Co-Owner of SDR Consulting. In his corporate function as Senior Executive Officer, Bill has overall management responsibility for the strategic direction of the firm. As a Senior Consultant and Practice Leader, he is responsible for project management, client relationships, proposal development and research design. Bill leads the legal consulting practice at SDR.
Bill has authored over 40 articles, tutorials, and seminars on marketing research methods and strategy. He is a recognized expert in the fields of market segmentation, product positioning, product optimization, brand value, brand equity, and advanced research methods.
He is on the Editorial Review Boards of Marketing Management and Marketing Research magazines and is an ad hoc reviewer for several other marketing management and marketing research publications.
Currently, Bill serves on the Advisory Board for the Master of Science in Marketing Research degree program at the University of Texas – Arlington and on the External Advisory Board to the Center for Marketing Studies at the University of Georgia, which manages the Master in Marketing Research degree program. He previously served on the inaugural Advisory Board of the A. C. Nielsen School of Marketing Research at the University of Wisconsin and on the Advisory Board to the School of Business at the University of West Florida.
He has been a guest lecturer and speaker at many colleges and universities throughout North America and served for many years in AMA's national speakers program. Bill has been very active in the American Marketing Association since 1978, serving as President of the Atlanta Chapter, Regional Vice President, and Vice President of the Marketing Research Division. From 1991 through 1995, he served on the Association's Executive Committee and from 1991 through1993 as the Association's Chairman-Elect and Chairman of the Board of Directors. Bill started the annual Advanced Research Techniques Forum in 1989, the annual Customer Satisfaction and Quality Measurement Conference in 1990, the annual Behavioral Research Conference in 1990, and the annual Electric Utility Marketing Research Conference in 1995 – all highly successful professional development conferences for marketing researchers.
In addition, he conceptualized and developed MARKETING RESEARCH: A Magazine of Management and Applications and was instrumental in the launch of MARKETING MANAGEMENT – both highly acclaimed publications of the American Marketing Association.
In 1987, Bill initiated AMA's Marketing Research Tutorial Series now offered at every AMA research conference. He has served as an instructor in that program since its beginning. In 1995 Bill was the fourth person to receive AMA's Lifetime Achievement Award for service to the Profession of Marketing Research.
Recognizing his long term contributions to the profession of marketing research, the Marketing Research Association awarded Bill with an Honorary Lifetime Membership in 1997.
Bill received a Bachelor of Science degree in Commerce and Engineering from Drexel University in 1966 and a Master of Science in Industrial Management with a specialization in Operations Research and Systems Analysis from Georgia Tech in 1973.