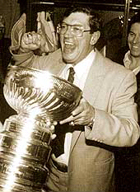 It seems like my entire life I've been going to sporting events. As a youngster I went to a sports camp and always had a passion for sports. Records are part of sports, in fact a big part of sports. I am not sure you can watch an hour of ESPN without someone discussing a record or featuring someone who broke or is approaching a record.
Let me just say I am a big fan of records. I was reading the other day that in November, Hall of Fame coach Al Arbour will go behind the bench for the New York Islanders one last time as he takes over the team he guided to four straight Stanley Cups. The funny thing is, I was a huge Boston Bruins fan growing up and when I went to Hofstra I could see Nassau Coliseum from my dorm room. While I was in college the Islanders were a dynasty led by Al Arbour and I worked at Nassau Coliseum with my roommates Kenny and Barry selling beer and other things.
The NHL and the NY Islanders will have Arbour sign a one-day contract and then lead the Islanders against the Pittsburgh Penguins on Nov. 3, marking his 1,500th game with the franchise. Islanders coach Ted Nolan will pass his responsibilities to the man who holds the NHL record for most games coached with one team.
"Every day last season I would walk by that big board outside our locker room at the Coliseum that lists the franchise's award winners and milestones," Nolan said in a news release, referring to the Islanders' home arena in Uniondale, New York. "And every day it would kill me when I'd see Coach Arbour made it to 1,499 games."
Does 1500 sound that much better than 1499? His record most likely will never be broken. Especially in today's sports where you either win now or you get fired quickly. I don't really understand this move.
Is it a public relations stunt?
Is it to put fannies in the seats?
Is it to make Al feel good?
I didn't like it when the Chicago White Sox signed Minnie Minosa in 1980 allowing Minnie at age 54 to play in a baseball game for the sole purpose of having him play in 5 decades!

As I said I love records! I love records when they are broken the right way! Al, you left coaching 13 years ago. If you miss the game that much, do it for an entire year…not just one game! Don't worry…your record won't ever be broken and 1499 games still sounds great to me.
This is just one man's opinion. I look forward to hearing your thoughts and knowing if you think I'm right or wrong.