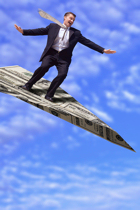 I am sure most people would say they would like to catch the eye of their CEO. Most people want to be noticed. Yes there are some people who want to fly under the radar screen but I believe more want to be noticed.
Recently I spoke to the MRA Southwest Chapter in Austin and included in my presentation were ways to get noticed by your CEO and I pointed out what gets my attention:
Revenue – (clearly the obvious one). Revenue is king/queen in most companies

New Clients
Inactive clients
Large projects
Selling all the company's products/services

Problem Solvers

Bring solutions to the table
Don't give up
Always look beyond the obvious
Really push yourself
Think outside the box

Increase Efficiencies

Improve interviewer production
Streamline internal systems
Use technology
Forget about saying it has always been done that way!

Donate time to organizations

Shows heart and spirit
Shows you can multitask
Shows you are passionate

Be client-oriented

Go above and beyond expectations
Treat internal clients as important as external clients
Make your boss look good

Don't jump to conclusions

Sit back and evaluate
Don't assume anything
Get rid of "it can't be done"

Be accountable

I made a mistake
Don't always work 9-5
Be big picture – connect all the dots

Be a team player

Know how to be successful across different teams in your company
Take on special projects

Say what you mean – mean what you say

Be a GREAT communicator
Don't over react
Don't miss deadlines without saying something
These are the things that catch my eye.
What catches your eye?
What about your boss?
I look forward to hearing your comments.