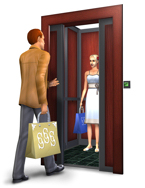 We get instructions for so many things. Most of the time there are announcements telling people where to go and what to do and if there aren't announcements there are signs. Lots of signs! Now they are in multiple languages which clearly will continue in the future.
Sometimes I think some of the instructions and signs are foolish – in some ways overkill. Sometimes I think people can figure things out for themselves and don't need all of these instructions.
What I don't understand is, doesn't "ON GET OFF FIRST." Isn't that a universal statement? No matter where you are or what you are doing, doesn't "ON GET OFF FIRST?" If I am on an elevator I should be able to get off first as opposed to a crowd of folks pushing and shoving trying to get a great spot in the elevator. Is there really one? I would say the same is true about a rental car bus – let the passengers get off first and then the new passengers can get on.
This really bothers me for a bunch of reasons:
Common courtesy
Saves time and increases efficiency
Make sure no one gets hurt
See number 1
Maybe we need signs after all and shouldn't let anyone figure things out for themselves!
Do you agree?
Does this make sense to you?
I look forward to your comments.