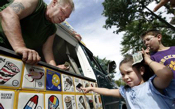 Do you recall that sound? Do you miss that sound?
Do you remember growing up, living in your first neighborhood and playing with your friends outside?
Do you remember this sound? Ding a ling a ling, Ding a ling a ling? I do. I miss those times and that sound. My friends and I would hear that sound and lose our minds! We would forget what we were doing or playing and sprint to our house and get money. To a seven year old that was the greatest sound of the day – it meant that the ICE CREAM MAN was right around the corner. It meant that I would have a brief but important conversation with my Mom that went something like this:
Merrill – Mom, can I have a dollar?
Mom – No.
Merrill – Mom, can I my allowance for the week?
Mom – I gave it to you yesterday!
Merrill – Mom, how about I promise to be really good for the rest of the week and be your best friend – please, please can I have a dollar?
Mom – Ok here you go. (As I am running off, she says be home in an hour for dinner!)
Sound familiar?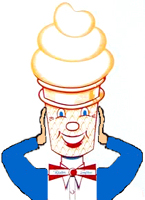 My question is what did you pick? What was your ice cream of choice? Was it the fudge pop? Italian ice? Blow pop? You were on top of the world with money in hand and the biggest decision of the day.
For me I loved the malted milk cup. It was chocolate and great and tasted fantastic every day of the year!
What did you choose?
I look forward to hearing your choices.