Since 1984 I have met literally thousands of people in this great industry. During that time I have come to admire lots of those people. I love being around people with a strong passion for life, for our industry, who are business executives and are very successful. For me you can check all four boxes for Roseanne Luth and in the "other" category you can add the word classy. I hope you enjoy getting to know Roseanne Luth.
I look forward to your comments.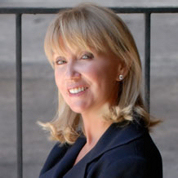 MD
What advice would you give entry level market researchers?
RL
Get a good range of training. Don't stick with one skill set. Learn from the perspective of a respondent who participates in market research all the way to the client who uses the data.
MD
What changes would you like the market research industry to make over the next 3 years?
RL
I would like to see the mid-level market research companies be more adept at adding value and information. The information offered by sites like Yahoo and Google will make them more of an information company which will erode or displace the information from the market research industry. Also, more mid-size companies need to be gathering and using data from various sources like the very large companies who are overlapping and merging data sources within their own companies.
MD
Who are some of the people you look up to in the market research community?
RL
Those who made a difference and were not afraid to undertake new paths. People like Gordon Black who spearheaded interviewing using the web as a methodology. Currently, I see some academics who are working along side market research companies to provide models for the innovations. People like Peter Fader from Wharton who love to share their perspective.
MD
When you are hiring research professionals, what are some of the things you look for in potential candidates?
RL
We look to see if they are smart and knowledgeable about how to get things done. Then, we look for willingness to learn, a "roll-up-your-sleeves" attitude, a personality and culture that fits with Luth's. I look for energy and kindness and teamwork. There are many things that contribute to the whole, but most of these give us an indication if someone can EXECUTE. That is the key; if they can execute. Also, we have a formal interviewing and scoring procedure we use and it requires a minimum of 3 people involved in the interviewing process.
MD
You have been a leader in so many organizations over the years. Why is this so important to you?
RL
Not only to give back but to be an integral part of the industry.
MD
What changes would you like to see in online research?
RL
2 things:
Quality. Some sort of validation of respondents to insure that the research is valid, representative and worthy of what our industry stands for. Right now, I feel like it is the "wild wild west" where there is no standard or controls in place. It is up to us as companies to be self-policing what we are doing right now on the Internet.
Innovation. Take advantage of the shifts in how people are using the Internet.
MD
What exciting things are on the horizon for Luth Research?
RL
The opportunity is with the panel, surveysavvy.com. Engaging our panel members through web 2.0 technologies will drive participation and differentiate us from other survey companies. We are living at a time when people develop and maintain their identity and their way of being through multi-faceted media usage – blogging, tagging, widgeting, iPoding, MP4ing, YouTubing and so on. Capturing respondents' feedback across these inter-connected touch points will be the next level of market research, which centers around understanding changes in a single respondent's life on a longitudinal basis.
This interaction will lead to a deeper knowledge of our panelists which I believe will tie in with what clients are seeking. We have a suite of products that provide richer information called KnowledgeLNX. Already we do profiling of respondents (PortraitCNX)) that tie to surveys and we have a syndicated study (IndicatorEDG) which we do quarterly.
MD
What would people be surprised to know about you?
RL
I'm pretty transparent. I don't think I could surprise anyone. Most might be surprised I have the Wii game.
###
About Roseanne Luth – President and C.E.O., Luth Research:
With passion and vigor, Roseanne leads the now 30-year-old market research firm Luth Research that she founded in 1977. Her creativity and innovation have been vital to her company's success, which includes an impressive 20% annual growth rate, as well as recognition by the San Diego Book of Lists as one of the top 25 Women-Owned Businesses in San Diego. Roseanne understood the power of the Internet as a market research tool and, in 1999, created SurveySavvy™, Luth Research's online panel of respondents. The online community is backed by a patented viral sign-up system and is one of the most scientifically valid data collection panel services on the Web with more than three million members worldwide.
With an outstanding reputation as a female entrepreneur and a leader, Roseanne became the first woman to join the Executives' Association in 1997 and soon after, its first female president. Her leadership roles also include her current position as Chair of the CASRO University Committee, as well as five years on the board of the San Diego Better Business Bureau, where her customer-oriented philosophy contributed to an appointment as chair of the Bureau in 1998. Her dedication to her local San Diego community requires a look no further than the San Diego Junior Theatre where Roseanne was able to serve in a presidential capacity and keep the San Diego Junior Theatre thriving for more than four years during an economic crisis.
Roseanne lives in San Diego, California with her husband. Her interests include her grandchildren.