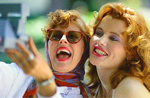 With the summer just ending and school about to start, the chance of many people taking a vacation in the past three months was probably pretty great. We all have great memories of vacations and probably have thousands of pictures and videos to prove it.
From time to time, a vacation doesn't go as expected–something happens that you didn't like, it puts you in a bad mood and for whatever reason your vacation wasn't that good. In fact it was a disaster. You had planned for months and saved up for that special vacation and you were disappointed. You were going to spend the weekend or longer with friends or family and you wished you had never made the trip and spent the money.
And of course, I have a story of my own.
I can recall going on vacation over 15 years ago with my girlfriend at the time and within minutes of being on a beautiful Caribbean island she insulted the front desk people, hated the menu of the pool restaurant and told me she had NO money at all. At that point I thought this vacation was in trouble. Over time I thought it would get better…And it didn't! What a disaster!
So with that said, fill in the blank. I knew my vacation was a disaster when ______________?
I look forward to your comments and stories.