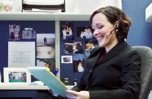 On my flight to New York last week I read an interesting article about office clutter. Specifically they were pointing out items that a person had in their cubicle or their office. According to Steelcase's 2006 Workplace Index Survey, most employees would appear more professional by having fewer personal items on display, a study says.
I'm not sure I agree with that at all. I look around my office and I think it is clean, organized and VERY personalized. My thought is that I spend a tremendous amount of time in my office and I want to be very comfortable.
In the 2006 Workplace Index Survey, 95 managers were given descriptions of professional and unprofessional workers. They were then asked to construct the office of each worker by placing stickers of dozens of items, from staplers to family photos to plants, onto images of an office.
If more than one in five items in your office or cubicle are personal, you may be viewed as unprofessional, according to University of Michigan research. Are you kidding me? I must have 50 items in my office that are personalized. Anyone who knows me could pick out my office in two seconds. Yes I have a signed picture of John Daly winning the British Open, Yes I have an original Boston Garden Chair that is signed by Larry Bird. I could go on and on.
The researchers found that the professionalism of each worker was reflected in the proportion of objects that referenced their personal life.
HOW WORKERS PERSONALIZE
| | | |
| --- | --- | --- |
| Item | % of workers who have this item in their office | Do I have it? |
| Photographs | 84% | yes |
| Calendars | 55% | yes |
| Paintings and/or posters | 51% | yes |
| Knickknacks | 47% | yes |
| Flowers and/or plants | 46% | no |
| Radios or CD players | 41% | yes |
| Wall paint | 27% | no |
| Rugs | 16% | no |
| Decorative lighting | 15% | no |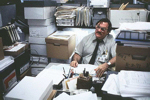 I have 5 out of the 9 items, so I assume I am unprofessional. In fact, I have 40+ pictures in my office so I am really, really unprofessional.
I look forward to your comments and knowing if you are unprofessional and hearing what you have in your office.